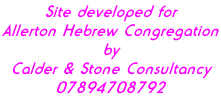 Allerton Hebrew Congregation
Central Synagogue
Malcolm Malits Court
207 Mather Avenue
Liverpool
L18 9UB
Office Hours:
Mon-Fri:
9:00 am - 12:30 pm
Sun & Bank Hols
By appointment
Tel: 0151-724 4811
Minister:
Rabbi Natan Fagleman
rabbinatan@allertonshul.org.uk
Mobile : 07541 368 656
Administrator:
Mr David A Coleman
Chairman:
Mr Alan S Coleman
Senior Warden:
Michael Lawrence
Imm. Past Chairman:
Mr Jonathan Malits
Hon. Treasurer:
Mr Ellis Haft
Assistant Hon. Treasurer:
Mr Jonathan Beck
Hon. Secretary:
Mr Howard Norman
ALLERTON HEBREW CONGREGATION
CENTRAL SYNAGOGUE
is a Registered Charity, Number: 1169737
ORGANISING YOUR STONESETTING
(MATZEVAH)
Any time from the end of Sheloshim (initial 30 days of mourning) you can erect a stone in memory of your loved one on their grave.
You should contact the office to arrange a suitable date and time.
There is a Central "Stonesetting" Diary which will be accessed to ensure that there isn't a clash with another one taking place at the same time.
The office has a list of Stonemasons who are able to engrave the Hebrew wording and it is important that it is checked by the Rabbi or a competent person also that the Stonemason's proof is checked to ensure they have used all the correct Hebrew Letters.