Allerton Hebrew Congregation
Central Synagogue
Malcolm Malits Court
207 Mather Avenue
Liverpool
L18 9UB
Office Hours:
Mon-Fri:
9:00 am - 12:30 pm
Sun & Bank Hols
By appointment
Tel: 0151-724 4811
Minister:
Rabbi Daniel Lieberman
Administrator:
Mr David A Coleman
Chairman:
Mr Jonathan Malits
Imm. Past Chairman:
Mr David Mann
Hon. Treasurer:
Mr Ellis Haft
Assistant Treasurer:
Mr Michael Boher
Hon. Secretary:
Mr Alan Monchar
ALLERTON HEBREW CONGREGATION
CENTRAL SYNAGOGUE
is a Registered Charity, Number: 1169737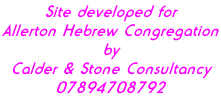 The Rabbi and Honorary Officer always welcome comments and constructive criticism.
Please feel free to use the form below to send your thoughts about the Shul, Administration, Rabbi, Services or anything else you feel it would be useful to know.
We hope to start a "Forum" but in the meantime please send your messages and we will publish them if appropriate.