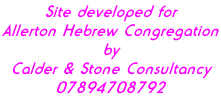 Allerton Hebrew Congregation
Central Synagogue
Malcolm Malits Court
207 Mather Avenue
Liverpool
L18 9UB
What3Words location:
only.leaves.goat
Office Hours:
Mon-Fri:
9:00 am - 12:30 pm
Sun & Bank Hols
By appointment
Tel: 0151-724 4811
Minister:
Rabbi Natan Fagleman
rabbinatan@allertonshul.org.uk
Mobile : 07541 368 656
Administrator:
Mr David A Coleman
Chairman:
Mr Alan S Coleman
Senior Warden:
Michael Lawrence
Imm. Past Chairman:
Mr Jonathan Malits
Hon. Treasurer:
Mr Ellis Haft
Assistant Hon. Treasurer:
Mr Jonathan Beck
Hon. Secretary:
Mr Howard Norman
ALLERTON HEBREW CONGREGATION
CENTRAL SYNAGOGUE
is a Registered Charity, Number: 1169737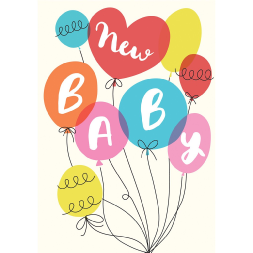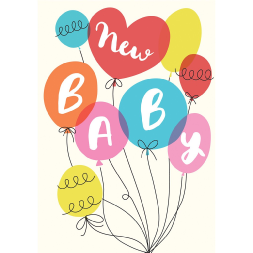 Mazaltov on the new arrival to your family.
You must be thinking about the naming of the baby and, if it's a boy, Brit Milah (Circumcision).
Please do not hesitate to contact the Rabbi, e-mail: rabbinatan@allertonshul.org.uk, Mobile: 07541 368 656.
A boy is given his Hebrew name at his Brit Milah. To find out about a Mohel please contact the Rabbi.
If the baby is a boy from the first pregnancy and a natural birth then, after 31 days there should be a Pidyon Haben. This is the mitzvah to 'redeem' a firstborn son who is born to parents who are both Yisraelim (not kohanim or leviim), provided the birth was natural (i.e. not a caesarean) and provided other criteria are met. The rabbi should be consulted to ascertain whether a pidyon haben is necessary. If it is, it should take place on the 31st day after the birth of the child inclusive of the day of birth (regardless of whether it was possible to perform the bit milah or not).
In the current circumstances, the pidyon haben should take place as usual on the correct date. However, it should be performed without a minyan. Only the father and the Kohen should be present and there is no absolute need for the baby to be with them. The father should have a seudah at home which again should be celebrated without a minyan.
A girl is usually named in Shul when the father will receive an Aliyah. This can be done at the first opportunity, Monday, Thursday or Shabbat.
However, during the current Covid-19 situation this may be done at home and a Service may be found in the Green "Authorised Daily Prayer Book" on page 816 or can be downloaded by clicking here.
Again, please contact the Rabbi or the office for more information.