Allerton Hebrew Congregation
Central Synagogue
Malcolm Malits Court
207 Mather Avenue
Liverpool
L18 9UB
Office Hours:
Mon-Fri:
9:00 am - 12:30 pm
Sun & Bank Hols
By appointment
Tel: 0151-724 4811
Minister:
Rabbi Natan Fagleman
rabbinatan@allertonshul.org.uk
Mobile : 07541 368 656
Administrator:
Mr David A Coleman
Chairman:
Mr Jonathan Malits
Imm. Past Chairman:
Mr David Mann
Hon. Treasurer:
Mr Ellis Haft
Assistant Treasurer:
Mr Michael Boher
Hon. Secretary:
Mr Alan Monchar
ALLERTON HEBREW CONGREGATION
CENTRAL SYNAGOGUE
is a Registered Charity, Number: 1169737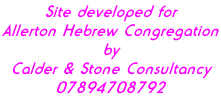 Back to News Page
EVENTS & NOTICES
WHAT'S GOING ON IN THE COMMUNITY
The next Liverpool Jewish Forum event is on Wednesday May 9th at 7.00 pm and the speaker is Alderman Eddie Klein, former Liverpool Millennium Lord Mayor.
PLEASE NOTE THE CHANGE OF DATE.
For more information please call Johnny Cohen Booking deadline is Sunday April 22nd.