Allerton Hebrew Congregation
Central Synagogue
Malcolm Malits Court
207 Mather Avenue
Liverpool
L18 9UB
Office Hours:
Mon-Fri:
9:00 am - 12:30 pm
Sun & Bank Hols
By appointment
Tel: 0151-724 4811
Minister:
Rabbi Natan Fagleman
rabbinatan@allertonshul.org.uk
Mobile : 07541 368 656
Administrator:
Mr David A Coleman
Chairman:
Mr Jonathan Malits
Imm. Past Chairman:
Mr David Mann
Hon. Treasurer:
Mr Ellis Haft
Assistant Treasurer:
Mr Michael Boher
Hon. Secretary:
Mr Alan Monchar
ALLERTON HEBREW CONGREGATION
CENTRAL SYNAGOGUE
is a Registered Charity, Number: 1169737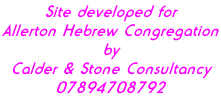 Back to News Page
EVENTS & NOTICES
WHAT'S GOING ON IN THE COMMUNITY
FORUM speaker on Wednesday 6 March 2019 will be
Marc Levy, North West External Affairs Manager of the Jewish Leadership Council.
Marc's role is to develop contacts with politicians seeking support for major British Jewish organisations and educating them about Israel. His work is invaluable and merits our support.
Marc a Mancunian, studied law at Birmingham University and practised as a solicitor for 11 years until joining the JLC in 2016. He was a founder member of a Young Magen David Adom Committee and North West Friends of Israel and completed a UJIA Leadership Course. He and his wife Rachel have six year old twins Molly and Joey.
Marc is undertaking much valuable work on our behalf. From scratch, his contact list with MPs alone is well in excess of 100 and they often seek his advice regarding communal matters. Mark is understandably very enthusiastic about his role and he is an informative and passionate speaker.
MENU Chicken Soup / Melon; Roast Chicken / Salmon / Veggie; Lokshen Pudding / Fruit Salad / Melon
To book and for more information
please contact Johnny Cohen on 07779 556 134 / jdcohen1956@gmail.com