Allerton Hebrew Congregation
Central Synagogue
Malcolm Malits Court
207 Mather Avenue
Liverpool
L18 9UB
Office Hours:
Mon-Fri:
9:00 am - 12:30 pm
Sun & Bank Hols
By appointment
Tel: 0151-724 4811
Minister:
Rabbi Natan Fagleman
rabbinatan@allertonshul.org.uk
Mobile : 07541 368 656
Administrator:
Mr David A Coleman
Chairman:
Mr Jonathan Malits
Imm. Past Chairman:
Mr David Mann
Hon. Treasurer:
Mr Ellis Haft
Assistant Treasurer:
Mr Michael Boher
Hon. Secretary:
Mr Alan Monchar
ALLERTON HEBREW CONGREGATION
CENTRAL SYNAGOGUE
is a Registered Charity, Number: 1169737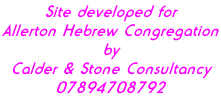 Back to News Page
EVENTS & NOTICES
WHAT'S GOING ON IN THE COMMUNITY
This is a ticket only event.
To purchase your tickets please see ticket sellers in the community or contact Sara at Shifrin House.
As Purim approaches, the ladies and girls, over the age of 5, of the Liverpool Jewish Community have been invited to come and join the Sem girls for their Annual Performance. The students of the Seminary will be delighted if the women can join them on Sunday 4 March 2018 and watch them on stage. Drama, dance and music all come together in one performance – we will be most welcome.