Allerton Hebrew Congregation
Central Synagogue
Malcolm Malits Court
207 Mather Avenue
Liverpool
L18 9UB
Office Hours:
Mon-Fri:
9:00 am - 12:30 pm
Sun & Bank Hols
By appointment
Tel: 0151-724 4811
Minister:
Rabbi Daniel Lieberman
Administrator:
Mr David A Coleman
Chairman:
Mr Jonathan Malits
Imm. Past Chairman:
Mr David Mann
Hon. Treasurer:
Mr Ellis Haft
Assistant Treasurer:
Mr Michael Boher
Hon. Secretary:
Mr Alan Monchar
ALLERTON HEBREW CONGREGATION
CENTRAL SYNAGOGUE
is a Registered Charity, Number: 1169737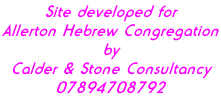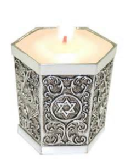 IMPORTANT INFORMATION - THE MIKVE
This last week the Liverpool Mikve, which is located at our Shul was inspected by Dayan Aaron Dunner of the London Kedassia Beth Din and Dayan Osher Westheim of Manchester. They confirmed to me that a leak has developed which has rendered the Mikve to be unsuitable for immersion by women, and for the immersion of utensils, pots and pans. However, the Mikve can still be used by men.
Therefore, until further notice the Mikve is out of commission for use by women and for the immersion of utensils, pots and pans. We will be reviewing the way forward to rectify the situation.
Shabbat Shalom and best wishes
Rabbi Dr Martin van den Bergh
Rabbi – Childwall Hebrew Congregation