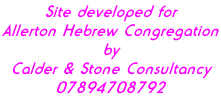 Allerton Hebrew Congregation
Central Synagogue
Malcolm Malits Court
207 Mather Avenue
Liverpool
L18 9UB
Office Hours:
Mon-Fri:
9:00 am - 12:30 pm
Sun & Bank Hols
By appointment
Tel: 0151-724 4811
Minister:
Rabbi Natan Fagleman
rabbinatan@allertonshul.org.uk
Mobile : 07541 368 656
Administrator:
Mr David A Coleman
Chairman:
Position Vacant
Senior Warden:
Michael Lawrence
Imm. Past Chairman:
Mr Jonathan Malits
Hon. Treasurer:
Mr Ellis Haft
Assistant Treasurer:
Mr Michael Boher
Hon. Secretary:
Mr Howard Norman
ALLERTON HEBREW CONGREGATION
CENTRAL SYNAGOGUE
is a Registered Charity, Number: 1169737
Where everyone is welcome
Liverpool Jewish Womens Welfare Society
c/o Shifrin House
433 Smithdown Road
Liverpool
L15 3JL
Tel: 0151-733 2292
Return to Links Page
The Liverpool Jewish Womens Welfare offers regular visits to members of our community.
Working closely with MJCC we meet regularly to allocate funds which help local Jewish women deal with difficult times in their lives.