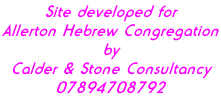 Allerton Hebrew Congregation
Central Synagogue
Malcolm Malits Court
207 Mather Avenue
Liverpool
L18 9UB
Office Hours:
Mon-Fri:
9:00 am - 12:30 pm
Sun & Bank Hols
By appointment
Tel: 0151-724 4811
Minister:
Rabbi Natan Fagleman
rabbinatan@allertonshul.org.uk
Mobile : 07541 368 656
Administrator:
Mr David A Coleman
Chairman:
Mr Alan S Coleman
Senior Warden:
Michael Lawrence
Imm. Past Chairman:
Mr Jonathan Malits
Hon. Treasurer:
Mr Ellis Haft
Assistant Hon. Treasurer:
Mr Jonathan Beck
Hon. Secretary:
Mr Howard Norman
ALLERTON HEBREW CONGREGATION
CENTRAL SYNAGOGUE
is a Registered Charity, Number: 1169737
LIVERPOOL HEBREW ASSOCIATED CHARITIES
c/o Shifrin House
433 Smithdown Road
Liverpool
L15 3JL
Tel: 0151-733 2292
Return to Links Page
The Liverpool Hebrew Associated Charities Fund is a unique charity which gratefully receives donations, especially on joyous and other occasions.
Founded over 75 years ago and having made donations of more than £100,000 over the past 20 years alone, it supports only local charities and especially the smaller and less fashionable ones and can respond to special needs.